Being a fan of Batman will not feel complete if this replica of Tumbler is absent from the collection. As it is my case, I was waiting for this car to be made in 1/24 but it's obvious that none of diecast manufacture is dare enough to put the 1/24 one into production. Luckily, Hotwheels's 1/18 Tumbler is so undersized and it's somewhere around 1:22.5 scale so I picked the Hotwheels one to fill up my Batman's collection =D
So here are the pics
Finished on semi gloss black color, very batmobilish.
The front wheels are oversized, no doubt.
Nice rubber wheels, great exhaust too.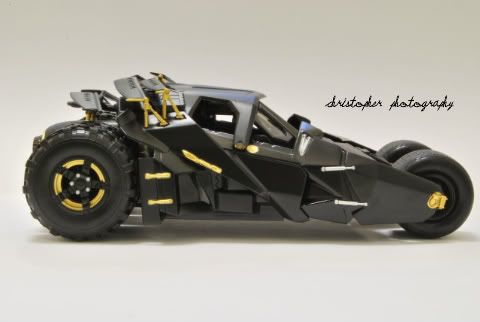 Wild!
The canopy door can be half opened with a bit of effort =D
Considering its price, scale, and details, my rate for this car would be 9/10, well done Hotwheels!
Thanks for dropping by!
Christopher